BackBox Linux 2.01 liberado
BackBox Linux
BackBox Linux es una distribución basada en Ubuntu orientada a la penetración y seguridad. Viene por defecto con varias aplicaciones preinstaladas como Dradis 2.8, ettercap 0.7.4.2, John the Ripper 1.7.8, Metasploit 4.2, Nmap 5.51, SET 2.5.2, Sleuth Kit 3.2.1, w3af 1.0, weevely 0.5, Wireshark 1.6.3 y muchas más
Ha sido liberada la versión 2.01.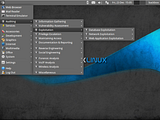 Click para agrandar
Los requerimiento mínimos de hardware realmente son muy pocos:
Procesador de 32 o 64 bits.
256 MB de RAM.
4.4 GB de espacio en el disco duro para su instalación.
Tarjeta gráfica que acepte por lo menos una resolución de 800 x 600.
DVD ROM o puerto USB
Las novedades con respecto a la versión anterior son:
System upgrade
Performance boost
New look
Improved start menu
Bug corrections
New sections such as Forensic Analysis, Documentation & Reporting and Reverse Engineering
New Hacking tools and updated tools such as dradis 2.8, ettercap 0.7.4.2, john 1.7.8, metasploit 4.2, nmap 5.51, set 2.5.2, sleuthkit 3.2.1, w3af 1.0, weevely 0.5, wireshark 1.6.3, etc.
Las imágenes ISO de BackBox Linux 2.01 vienen en formato Live DVD y pesan cerca de 1 GB y las pueden obtener desde su página de descargas.
Fuente | Ubuntips