VirtualBox 3.2.2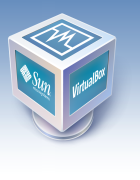 VirtualBox, el excelente programa de virtualización ha sido actualizado a su versión 3.2.2 con esta extensa lista de cambios:
VMM: fixed rare invalid guest state guru meditation (VT-x only)
VMM: fixed poor performance with nested paging and unrestricted guest execution
VMM: fixed occasional guru meditation during Windows 7 bootup
GUI: keep the status for remote control in sync with the actual state
GUI: don't exit after a successful refresh of an invalid VM configuration
GUI: fixed keyboard capturing bug under metacity
GUI: fixed crash during VM termination if a modal dialog is open
GUI: default controllers names of New VM Wizard are synchronized with VM settings
GUI: fixed superfluous resize-event on powering-on VM for X11
GUI: fixed regression – missed USB item's tool-tip of USB devices menu
GUI: Activate VM window on mouse-hovering for multi-monitor VMs
VBoxSDL/Linux hosts: automated keyboard type detection
SATA: fixed crash during VM suspend under rare circumstances
SATA: fixed crash during VM reset after a snapshot was taken
Storage: fixed sporadic hang of SMP guests using SATA or LSI Logic SCSI and asynchronous I/O
Virtio-net: fix for guests with more than about 4GB RAM
Page Fusion: fixed VBoxService crash with enabled Page Fusion on Win64 guests
Page Fusion: added kernel module sharing
HGCM: fixed memory leak which showed up if the Guest Additions were accessing a non-existing HGCM service
Teleportation: several fixes
Floppy: don't disable the host I/O cache by default
USB: fixed 3.1 regression with certain devices (e.g. iPhone); Windows host only
Serial: updated the guest device emulation to 16550A and reduced the probability for loosing bytes during transmission
NAT: re-fetch the name server parameters from the host on guest DHCP requests to handle host network switches more gracefully
NAT: fixed parsing of IPv4 addresses in CIDR notation
NAT: limit the number of name servers passed to the guest to four
NAT: fixed DNS transaction id mismatch
VDE: fixed changing the attachment during runtime
Bridged Networking: fixed memory leak in the Bridged Networking driver for Windows hosts
Windows Additions: fix for NT4 guests
Windows Additions: re-introduced system preparation feature
Linux guests: enable PAE for RedHat guests by default
Linux guests: fix support for disabling mouse integration
Webservice: fixed a rare crash when calling IGuest methods from the webservice.
OVF: fixed wrong hard disk UUIDs on export
OVF: fixed 3.2.0 regression importing legacy OVF 0.9 files
3D support: fixed OpenGL support for 64bit apps on windows guests
3D support: fixed various host crashes
Para instalarlo o actualizar en Ubuntu pueden usar el paquete deb correspondiente a su versión:
para otras distribuciones, hay paquetes en su página de descargas para hosts Linux.